About MyGovHK
MyGovHK is the personalised interface developed on the GovHK portal (www.gov.hk) to meet citizens' needs, offering quicker and more convenient access to personalised online services and information.
You can create your own MyGovHK account for free, and to have a personalised webpage to access government information and services.
A number of features have been built in to make this personalised interface user-friendly, offering you a pleasurable user experience:
– All functions are neatly arranged in the left menu for easy navigation.
– Top Choices on homepage provides you with shortcuts to new or most popular online services and subscriptions.
– The numbers of pending items such as unread messages, to-do items are all clearly shown on homepage.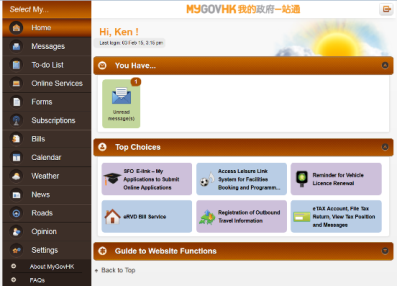 MyGovHK conforms to the World Wide Web Consortium's (W3C) internationally recognised Web Content Accessibility Guidelines 2.0 to the level AA (Double-A conformance). It meets both basic and advanced accessibility standards, and can be used by most people with special needs.
Your feedback and suggestions will help MyGovHK better meet your needs. You can email them to MyGovHK at enquiry@1835500.gov.hk or make use of the electronic form to send us the feedback.
For assistance in using MyGovHK, please call our hotline at (852) 183 5500 or email to enquiry@1835500.gov.hk.
The hotline is provided by the GovHK Help Desk. It is managed by the "1823" of the Government and operates round the clock, 24 hours a day.
Last revision date: November 2020